Blueden ED operates buses around London. It is owned by Blarkui PLC.
History
It was set up by Mattyin Blarkui and Merton Wimbledon on January 1st 2012, when it took over Waterloo garage.
Garages
Blueden ED operates 2 bus garages.
Waterloo
This garage operates routes 1, 9, 11, 521, 24 hour routes 76, 176, 243, 507, 545, 546, Night bus routes N1, N9, N11 and flyLondon branded route fL1.
Buses
ADL Enviro 200 Electric 11.3m EDE for routes 507 and 521
Optare Metrocity 12m EOM for routes 507 and 521
Wright Borismaster 11.3m LT for routes 1, 9, 11, 76 and N11
Wright Eclipse Gemini/Volvo B7TL 10.5m VWM for routes 243, 545, 546, N1 and N9
Alexander ALX400/Dennis Trident 9.9m AT and 10.6m ALT for routes 176, 243, N1 and N9
ADL Enviro 300 Virtual Electric 12m XDE for route fL1
ADL Enviro 400H MMC 10.3m ALH for routes 176, 545 and 546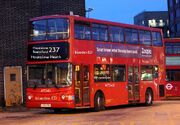 Brentford
This garage operates 24-hour routes 65 and 237 and Night bus route N9.
Buses
Alexander ALX400/Dennis Trident 9.9m AT for routes 65, 237, and N9
Scania N230UD/Optare Olympus SO 10.8m for routes 65, 237, and N9
Scania Omnicity 10.8m SP for routes 65, 237 and N9