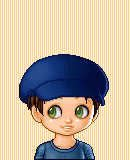 Mattyin Blarkui (pronounced as Matteen Blargoy) is a character created by aOtisCat. Please do not use him without permission.
Information
Age-25
Job-Owner of Blueden ED buses
Location-Hampton Wick, London
Height-1.90m
Gender-Male
Backstory
Mattyin was born on the 31st of September 1990, at West Middlesex Hospital, Isleworth, to Hayuka Blarkui (née Zai) and Mattrieno Blarkui. He lived in Earlsfield, London, and attended the same school as Merton Wimbledon. They have been best friends for the whole of their lives. In 2012, he brought Waterloo garage from Go-Ahead London, and its two routes, 507 and 521. Since then, many other routes have been won.
Future
He is buying more garages, including Putney, also owned by Go-Ahead.